There's something enchanted about Christmas in Docklands, Melbourne, Australia, as the season's colours cover the city in shades of laughter and joy. The twinkling lights, the brisk air of summer, and the reassuring feeling that everyone is in it together create an atmosphere perfect for a party unlike any other.
This year, celebrate Christmas with a unique twist at Gaylords in Docklands, where you can experience the holiday festivities with an Indian influence. We are here to ensure that your Christmas lunch and dinner in 2023 are experiences you will never forget. Participate in this time-honoured Australian custom with us, and you will learn how we incorporate the spirit of India into it.
The Fusion of Indian Flavours with Christmas Traditions
Infused with a kaleidoscope of flavours that reflect the country's tremendous diversity, Indian food is a gastronomic treasure trove with a rich history spanning millennia. Indian cuisine offers a delicious variety of flavours, from the colourful street food of Mumbai to the complicated Mughlai curries of North India. Taking you on a taste adventure that knows no borders, Gaylord has skillfully fused traditional Indian flavours with holiday favourites.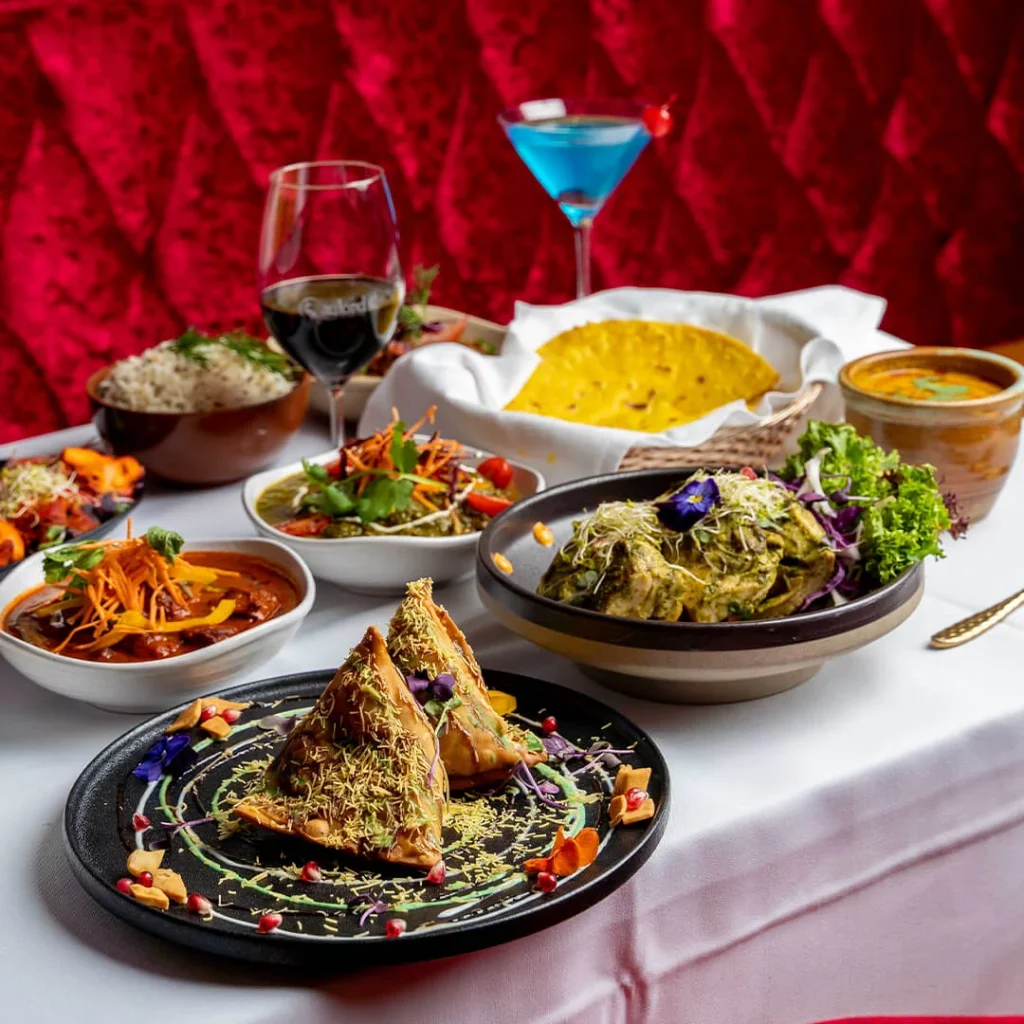 Gaylord has combined the spirit of India with the wonder of
Christmas day
to create a unique dining experience at
Dockland's festive dining
.
Gaylord's holiday specials
do a fantastic job of showcasing this blend. For example, our famous Butter Chicken features bite-sized pieces of chicken cooked in a luscious buttery tomato sauce. Chicken cooked in a fragrant onion, tomato, and ground spice combination is the star of the Dhaba Murgh, a dish that celebrates Indian flavours. Our Highway Goat Curry is a goat stew cooked low and slow, infused with the spirit of India's spice marketplaces. The Aloo Baingan, a curry of eggplant, potatoes, pumpkin seeds, and sultanas, proves we still remember our vegan friends.
This year, celebrate the holiday season with an Indian cuisine Christmas feast at Gaylords, where the traditions and flavours of India meet the season's warmth. Our holiday dishes put a unique spin on Docklands' festive dining, resulting in a delicious mingling of tastes that will make your Christmas party one to remember.
Why Choose Gaylords for Christmas Lunch and Dinner in 2023
Nestled in the heart of Docklands, at 33 Spencer St, Docklands VIC, Gaylord Indian Restaurant offers a dining experience and a royal affair. The location couldn't be more perfect, attracting locals and tourists looking for a taste of India's rich culinary traditions. As you enter our restaurant, you're transported into regal splendour and opulence reminiscent of India's royal courts and palaces.
Our décor beautifully marries traditional Indian features with modern aesthetics, creating an inviting and exquisite ambience. Rich tapestries and magnificent chandeliers pay homage to India's majestic heritage, while contemporary design elements add a touch of refinement. It's a setting that sets the perfect mood for a unique Indian dinner in Melbourne, where every detail, from the decor to the cuisine, has been meticulously designed to immerse you in the magic of India's culinary traditions.
As the holiday season approaches, we're excited to bring you special offers to make your Christmas celebration memorable. Join us for Christmas Day Lunch or Dinner 2023 and indulge in a festive 3-course Indian feast for only $75 per person and $40 for kids (5-12 years). Our Christmas lunch menu is thoughtfully designed to reflect the flavours of a traditional Christmas while adding a unique Indian twist.
So, celebrate Christmas with us in a quieter space, elegantly decorated, and enjoy the warmth of our smiles and the fun atmosphere. It's time for premium Christmas day lunch and dinner at Gaylord Indian Restaurant, where every dish is crafted with love and care, ensuring a classic Christmas celebration. Come for breakfast, lunch, and dinner, and let us make your Christmas extra special at Gaylord Indian Restaurant, where every moment is an opportunity to savour the festive season.
Conclusion
Experience a truly unique way to celebrate Christmas Day lunch and dinner in 2023 at Gaylords. Create unforgettable memories with your loved ones as you enjoy this special occasion. Our lunch and dinner offerings promise an exceptional Indian cuisine Christmas feast that beautifully combines tradition with innovation, providing a delightful twist to your festive celebrations. To ensure you get this one-of-a-kind Dockland's festive dining experience, we encourage you to make your reservations early.
Don't miss the opportunity to have a truly enchanting experience on Christmas Day! To secure your spot, please call 03 9620 1286 and experience an extraordinary celebration this Christmas with our meticulously crafted Gaylords holiday specials. Come and join us at our restaurant for a delightful day filled with delectable flavours and a warm, festive spirit. 
Contact us today to reserve your spot for a memorable Christmas feast!
*Please note that our menu items, ingredients, and drink selections may change occasionally; please use these recommendations as a general guide.