Corporate events in Melbourne's dynamic Docklands district are more than just meetings; they are tremendous occasions to interact, cooperate, and leave a lasting impact. There can never be enough emphasis placed on corporate catering in Docklands. This vibrant area is the city's corporate epicentre, hosting numerous business meetings, conferences, office celebrations, and company parties. The demand for professional and high-quality catering services is critical in such a bustling setting. After all, the culinary experience you deliver to your visitors typically determines the success of your corporate event. Whether a carefully curated business luncheon or an elegant evening cocktail party, selecting the correct corporate catering in Melbourne's Docklands sets the tone for an enjoyable occasion.
With Docklands playing such a vital role in Melbourne's corporate scene, there has never been a greater need for top-tier corporate food services. Because these gatherings are where ideas are generated, partnerships are sealed, and connections are formed, selecting a catering service is crucial. It's not just about the food; it's about creating an atmosphere conducive to successful meetings and remarkable celebrations. So, as you navigate the bustling world of Docklands' corporate landscape, remember that selecting the correct corporate catering service in Melbourne can be the key to maximising the potential of your business events.
The Importance of Corporate Catering
Catering is crucial in setting the tone for business events, especially in Melbourne's CBD. Whether it's an important business meeting, catering for office celebrations to boost team morale, or an impressive company party to mark a milestone, choosing the right caterer can significantly influence the overall experience. The food, presentation, and service cultivate a productive and collaborative atmosphere. Catering for business meetings in Melbourne's CBD, where corporate events are equally diverse as the city itself, requires quality; office celebrations deserve flare; and company parties require originality.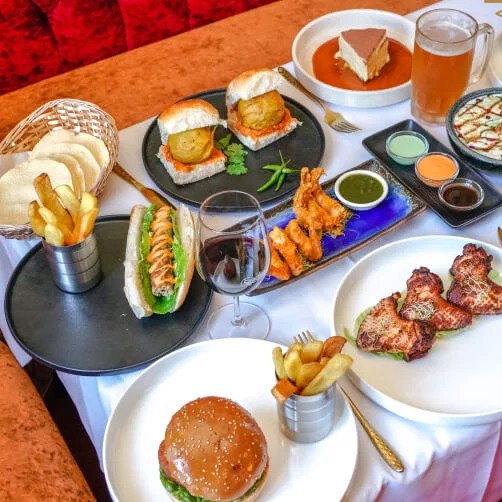 The importance of selecting the proper caterer for your event must be addressed in Melbourne's competitive corporate scene. Catering that fosters innovation is required for business conferences, while catering that adds zest to the mood is necessary for office festivities. The caterer's skill sets the stage for success, whether it's a formal meeting or a casual office party. The ideal caterer understands that it's not just about the food; it's about providing an experience that aligns with the aims of your event. So, when catering for corporate events in Melbourne CBD, remember that the catering service you choose can be the key to realising the full potential of your company gatherings.
Also Read – A Guide to Indian Catering in Melbourne Plan the Perfect Event
The Premier Choice for Corporate Catering in Docklands
Gaylord, located in the heart of Docklands, has earned an outstanding track record as one of Melbourne's most-known Indian restaurants. Gaylords extends its culinary prowess to the corporate arena, distinguishing itself as a top choice for corporate catering in Melbourne.
What distinguishes us is our extensive menu selection, which is meant to meet a wide range of dietary needs. Gaylords'
catering menus
have you covered whether you're planning a business conference that needs a magnificent spread, a party that necessitates delectable
finger food,
or an office lunch that leaves a lasting impression. Our cuisine is a beautiful journey through the colourful flavours of India, from the creamy opulence of Buttered Chicken to the aromatic perfection of Basmati Rice, the powerful aromas of Beef Vindaloo, and the vegetarian joy of Palak Paneer.
Convenience is essential in today's fast-paced corporate world, and Gaylords knows this well. They provide the convenience of ordering online, ensuring your catering requirements are satisfied as quickly as possible. Gaylord stands as a reputable catering company from Melbourne's CBD to the dynamic Docklands area, offering a variety of catering packages and catering alternatives to fit any event, be it a conference, corporate gathering, or office party. When you choose Gaylord as your corporate caterer, you select an experience that caters to your dietary requirements, exceeds your expectations, and adds a touch of culinary flair to your corporate events.
Why Choose Gaylord?
Gaylord is the preferred choice for your corporate catering needs, providing outstanding value for money. Our adaptable catering packages can accommodate various events, from business meetings to office catering and catering for business conferences. Organisations in Melbourne CBD and Docklands have continuously complimented our services, highlighting our reputation as a reliable corporate caterer. Aside from our exquisite meal options and the ease of ordering online, we have a one-of-a-kind edge with our conference space, which is one of Melbourne's finest. It can hold up to 40 people comfortably, making it suitable for various professional meetings, corporate presentations, buffets, and gatherings.
Our meeting space includes built-in AV technology such as a projector, sound system, conference call capability, and wide monitors to ensure your presentations run smoothly. Stay connected during events with our complimentary high-speed Wi-Fi service.   Our magnificent area is perfect for intimate dinners and
business meetings
, with an elegant ground-floor outlook and the option to curtain off the space for complete seclusion. When you pick Gaylord for your
corporate catering,
you not only receive an extensive menu and online ease, but you also have access to a sophisticated conference and meeting space, which adds to the whole experience and makes your events in Melbourne genuinely remarkable.
Conclusion:
Finally, excellent catering for your corporate gatherings must be considered. The secret element transforms a mundane conference into an unforgettable one. Gaylords understands how important it is to make your business events in Docklands or the Melbourne CBD easy and memorable. Look no further if you're looking for the most outstanding corporate catering in Docklands. Discover our range of catering options and packages.
Start planning an unforgettable event for your guests by contacting us today. Your gastronomic experience begins here; choose Gaylord to take your business events to the next level!
*Please note that our menu items, ingredients, and drink selections may change occasionally; please use these recommendations as a general guide.